In recent years, "Pub" has become a cultural space loved by young people in Ha Thanh. They like to hide in hidden corners, slowly enjoy a warm yeast and relax after tiring days. To find those same souls, immediately visit the 05 pubs in Hanoi shared below!
1. Polite & Co – Traditional pub in Hanoi
Address: 5B Nguyen Bao Khanh, Hang Trong, Hoan Kiem
Price range: 50,000 VND – 150,000 VND
Time: 16:00 – 00:00
Polite & Co is known as a traditional pub, then it has been remade into the first pub in Hanoi. The space of the bar is inspired by the nightclubs of the early twentieth century, with a bit of chaos mixed with liberal. Polite & Co always gives customers a feeling of lightness and comfort thanks to the dim yellow lights and the faint scent of wood. Often guests come here will bring a special story, Polite will be the place to keep those stories.
In the early days, the bar specialized in whiskey and cigars, later expanded to include more cocktails. Each drink here reminds you of the special familiar taste of Hanoi. To get that, the owner has made a selection of natural, local ingredients. With cocktails, the bartender will mix weekly themes or "order" according to the mood of the guest. If you are a bit of a traditionalist, Polite will definitely be the ideal place.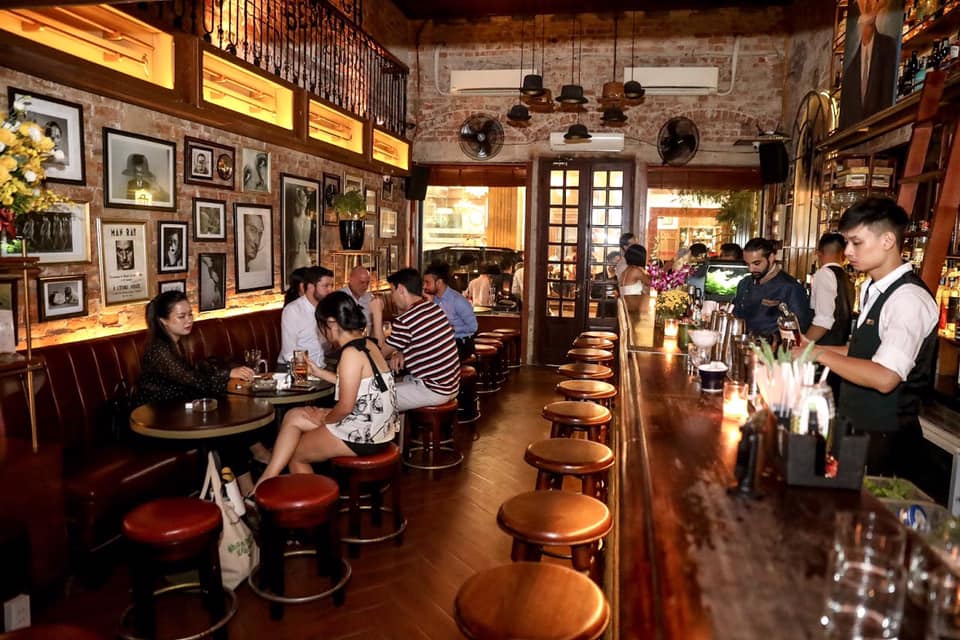 2. King Pirates Pub – Hanoi Pub style Pirates
Address: 24B Hang Giay, Hang Buom, Hoan Kiem
Price range: 50,000 VND – 200,000 VND
Time: 10:30–02:00
King Pirates is a pub in Hanoi that attracts many western and domestic customers. The space here is young, dynamic, always filled with fun atmosphere and impromptu games. The shop also takes the image of the Pirates of the Caribbean to decorate from the inside out. The area of ​​King Pirates is not large, so it usually opens to the sidewalk. For guests who want to sit and talk comfortably, they can sit outside. If you want to be quiet and less noisy, go inside.
Beer, cocktails and coffee are three popular drinks at King Pirates Pub. There are some exclusive cocktails prepared by the respected "captain", you can try: Captain Sparrow, Barbarossa, Calico Jack, Captain Slim, Captain Flower, Captain Black… The common point is to bring coolness like you are traveling at sea. A day walking the old town but feeling too hot, King Pirates will be a great stop.
3. The Unicorn Pub – Unique pub in Hanoi
Address: 2A Hang Than, Nguyen Trung Truc, Ba Dinh
Price range: 25,000 VND – 200,000 VND
Time: All day
The Unicorn is a familiar place for many young people. Partly because the owner is a young Vietnamese man, they often come here to find harmony. The space is not too large, the interior is mostly made of wood, creating a warm and quiet atmosphere. The capacity of the restaurant is only 30 people, so it is only suitable to go alone or with 1 or 2 friends. If you come to The Unicorn, you are encouraged to sit at the bar, watch the mix and chat with the charming owner.
The owner of The Unicorn is Mr. Nguyen Tien Tiep, he won the Vietnam Bartender Championship and ranked 17th in the world in the World Class competition. With the above title, the deliciousness and uniqueness of the drink here is indisputable. To make his own mark, he has renewed all recipes, paying special attention to the characteristics of Hanoi. Cocktail Pho and Com are two highly rated drinks, you definitely have to try.
4. Factory 47 – A pub with fancy architecture in Hanoi
Address: 47 Hang Buom, Hoan Kiem
Price range: 50,000 VND – 250,000 VND
Time: 10:00 – 03:00
Factory 47 is one of the pubs in Hanoi with the most unique space. Entering the shop you will feel like you are in a miniature factory. Everything looks like it's still under construction, but it's actually the owner's unique artistic intention. The space is mainly using light from led lights, warm tones make you feel relaxed, forget all fatigue. Factory 47 will occasionally have music parties, if you want to "freeze" you can check the schedule to visit.
The menu at Factory 47 is quite new, unlike the rest of the pubs, there are more snacks, fast food, especially a collection of delicious sandwiches. Drinks are mostly cocktails, whiskey and healthy non-alcoholic drinks. Each type of water is associated with a separate story, a sweet girl can choose The Lucky. A guy who wants to send his love to his girl should have a cup of The Rose Girl. Or want a bit of room, drink a glass of Lady from the west.
5. Prague Pub – Beautiful Hanoi pub
Address: 39 Hang Buom, Hoan Kiem
Price range: 50,000 VND – 150,000 VND
Time: 11:00 – 00:00
Prague Pub has a modern, luxurious and spacious space that can be sat indoors or outdoors. Guests will prefer to come here in the evening because the space looks very chill at that time. Everyone can gently, slowly enjoy a leisurely weekend. And if you want to drink loudly, you can still sit on the sidewalk carefree.
Prague Pub is always appreciated for the quality of drinks, not only wide variety but also delicious. For those of you with a limited economy, with only 50K, you can comfortably enjoy a few cool and gentle cocktails. Those who want to be "heavier" can try Vodka Marni or Corona beer, Pilsner Urquell… Prague Pub is always crowded, especially foreigners, so it has become a place for you to exchange and find new people. new friend.