6. Hon Trong Mai
Hon Trong Mai is an interesting tourist destination located in the southwest of Ha Long Bay, 5km from Bai Chay. This place has a unique shape with two chickens and tiny feet, if viewed from afar, it will feel like they are about to collapse at any moment. You can come here by boat to discover this masterpiece that nature bestows on Ha Long Bay.
7. Surprise Cave
If Quang Binh has Phong Nha – Ke Bang, then Ha Long will bring you Surprise Cave. Coming here, visitors will first be overwhelmed with unique stone steps like leading us into another world, inside the cave are stone blocks with strange shapes and splendid colors.
Now we can come and explore Sung Sot cave quite easily, especially in the deepest area of the cave will be called "Garden Royal", here will have a clear blue lake with many systems. rich diversity of flora.
8. Bai Tho Mountain
If you want to explore Ha Long tourism from above, Bai Tho Mountain is definitely a name not to be missed. This is a 200m high limestone mountain located in the center of the city. Standing from the top of the mountain will give us a panoramic view of Ha Long Bay which is extremely beautiful.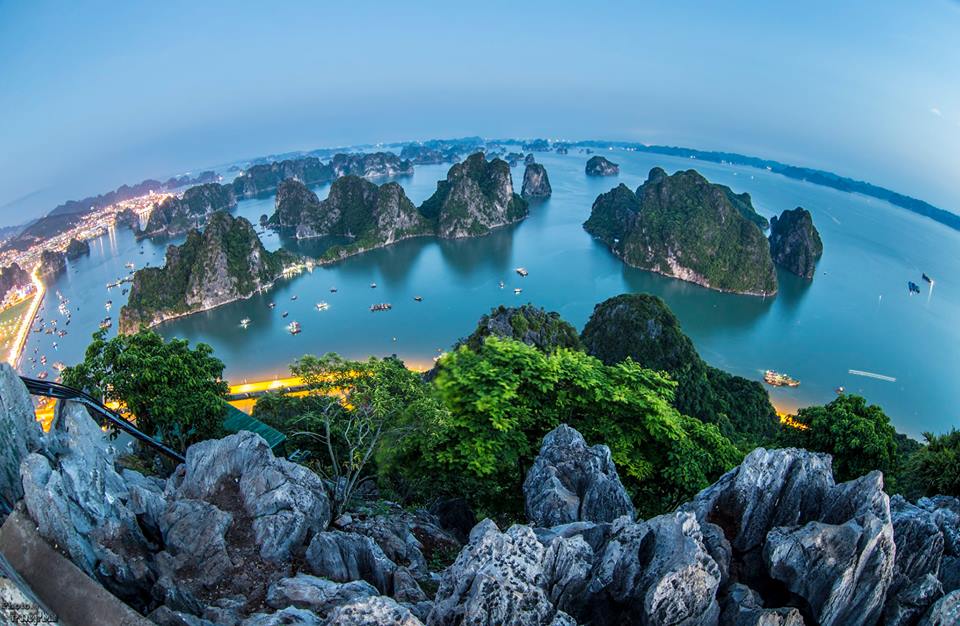 The process of conquering Bai Tho mountain is also very interesting, on the way to the top we can see many herds of goats freed or many birds flying overhead, the flora here is also extremely rich for tourists. we discover. When you come here, remember to bring your camera or make sure your phone has a full battery to take the best photos.
9. Yen Tu relic site
Now let's explore Ha Long tourism with spiritual places! Yen Tu relic site is a place with an important history associated with Buddhism and is also known as the ancestral land of Buddhism in Vietnam. There are many works here for tourists to visit and sightsee. This will be an ideal place for visitors to learn more about the religious culture in Ha Long city since ancient times.
10. Quang Ninh Museum
The museum sounds pretty boring, but not in Quang Ninh! Quang Ninh Museum has a very unique architecture with a black box shape combined together. The museum consists of 3 floors with different themes and displays many interesting artifacts for us to admire.
The first floor of the museum will have the theme of the sea and nature, displaying many whale skeletons and huge sharks. To the 2nd floor, we will have important historical artifacts with each prehistoric – early – modern period. And on the 3rd floor, we will be able to recreate the history of the coal mining industry, describing in detail to the viewer the hardships of this work.
There are still many other attractive addresses, please experience it for yourself when you come here.