What to watch?
In addition to visiting scenic spots, visitors should enjoy art shows imbued with national identity in Hanoi.
Water puppetry: is theatrical art that tourists should see when coming to Hanoi. This art has a tradition of more than 1,000 years in Vietnam. There are two popular places to visit: Thang Long Puppet Theater at 57B Dinh Tien Hoang and Vietnam Puppet Theater at 361 Truong Chinh.
Listen to ca tru : Ca tru originated in the 11th century, the style bears many similarities to Japanese geisha rituals and opera performances. Initially, ca tru was considered as entertainment for the nobility in the royal palace, then, it entered the common cultural space of modern Hanoi. Ca Tru has five main performance spaces: Ca Tru Cua Dinh (singing at the gate of the communal house to worship the gods), Ca Tru Cua Quyen (enjoying Ca Tru of the authorities), Ca Tru at home, Ca Tru singing Thi, Ca Tru canteen. Visitors can listen to Ca Tru at Hanoi Ca Tru Club at 42 Hang Bac, Ca Tru Thang Long 146 Tu Hoa.

Real Scene Show: Essence of the North is a real scene show on stage at Thay Pagoda, at the foot of Thay Mountain, Sai Son Commune, Quoc Oai District, Hanoi. The play takes place on a lake of 4,300 square meters, bringing visitors into the life of farmers in the North through performances of sound and light. Most of the actors participating in the scene are farmers of Quoc Oai district.
In addition to the show, visitors can also experience the traditional culture of the North directly outside the stage with stalls selling spring rolls, rice cakes, sticky rice cakes, sticky rice wrapped in lotus leaves, peanuts, and sweets. hump. Tourists can buy and eat between small chairs in the middle of the garden in the music of quan ho.
Where to play?
SUP paddling on West Lake : Waking up at dawn, you can drive to West Lake and experience water games such as SUP and kayaking. The appropriate time is usually 5 am-7 pm, or cool afternoon. You can find boats and boards for rent at shops on Lac Long Quan, Au Co, Trich Sai … with prices from 250,000 VND a day.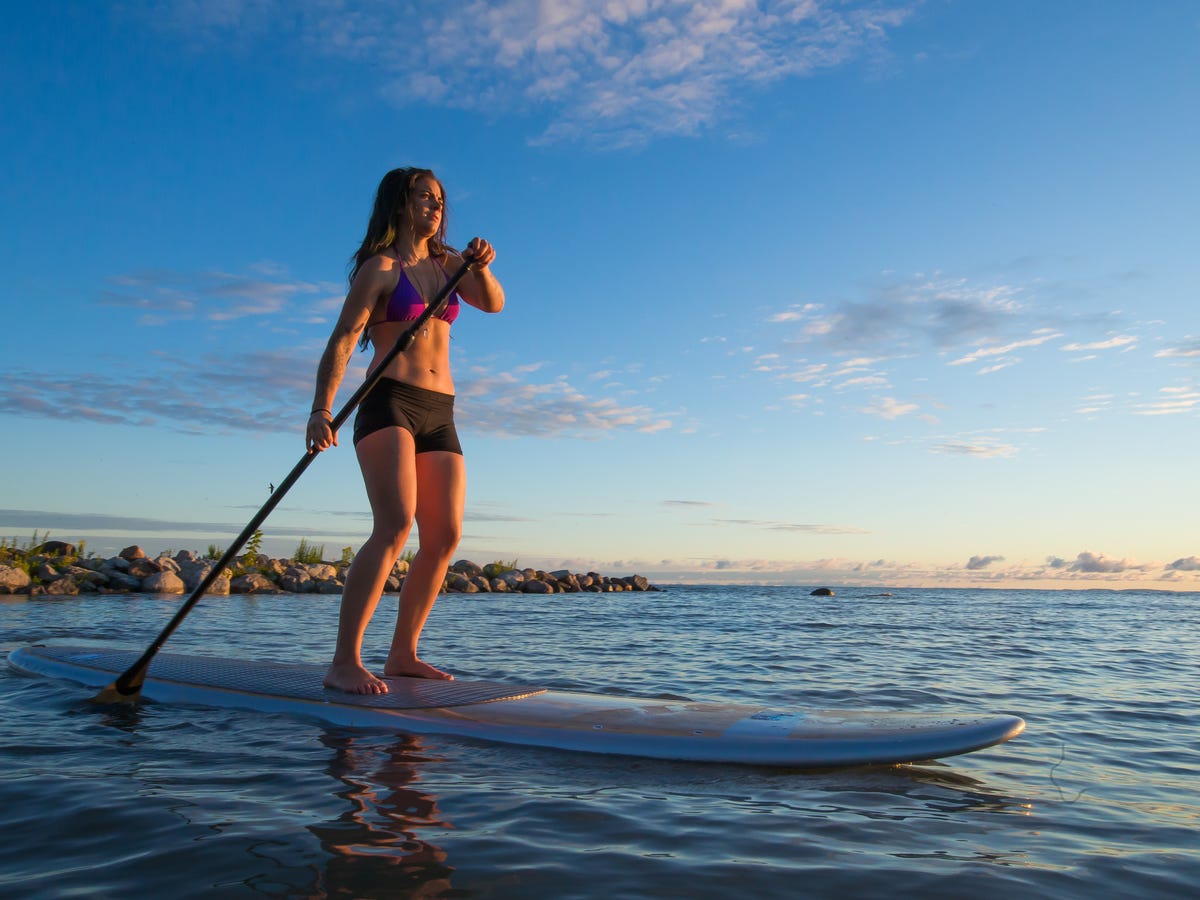 View of Hanoi from above : Coming to Hanoi, you cannot ignore Lotte Observation Deck located on Lieu Giai Street, because this is the place where you can enjoy panoramic views of the capital from the 65th floor. Made from transparent glass, you can take creative check-in photos at any angle. The observatory is open from 9am to the end of the day.
Walking Street : Every week, Ho Guom walking street is open from 6pm on Friday to the end of Sunday, attracting a large number of both locals and foreign tourists. This space has a lot of fun activities, entertainment, and street art performances. Don't forget to experience the "food tour" around the walking street.

Beer Street : In the old town, especially in Ta Hien, Bao Khanh, Luong Ngoc Quyen, there are always many places for you to drink beer or other attractively prepared drinks. This is also one of the busiest nightlife places in the capital.

Going to the market: Not Dong Xuan market, Quang Ba flower market and Long Bien wholesale market are the two addresses that Westerners whisper to each other to visit once if they have the opportunity to come to the capital. The market mainly sells flowers and fruits, but "requires" visitors have to stay up late, get up early to see all the bustling, bustling atmosphere of a very different Hanoi when night falls.
Located right at the foot of Long Bien Bridge, Long Bien wholesale market is bustling all year round, the most famous being the wholesale fruit market. From 20:00 the market begins to move, the more bustling at night. Quang Ba flower market is open all night, but the most crowded is around 3-4 am, busy buyers and sellers. Bouquets of flowers, large and small, were piled up on the car.