Cu Lao Xanh is located in Quy Nhon City, Binh Dinh Province. From the mainland, the first impression for visitors is a clean and blue island in the middle of the sea. Although it is still a relatively new place on the tourist map of Vietnam, Cu Lao Xanh possesses unique and interesting landscapes.
From the centre of the island commune, along the concrete road, are small houses hiding under coconut trees leaning towards the sea, next to a few basket boats lying on the white sand, after hours of "working" with fishermen. Coming here, visitors will have the chance to enjoy a quiet blue sky and sea in a fishing village, without being disturbed by anyone. Only the wind, the sea, the sky, the small houses, the scene and the people blended and connected to create a beautiful and peaceful picture.
Coming through the rows of small houses and slowly climbing up the mountain, visitors can reach a lighthouse built during the French colonial period. With a height of 119 metres, the lighthouse is not only associated with the history of the Nhon Chau island commune but also the belief, pride and living ideal of the locals over many generations.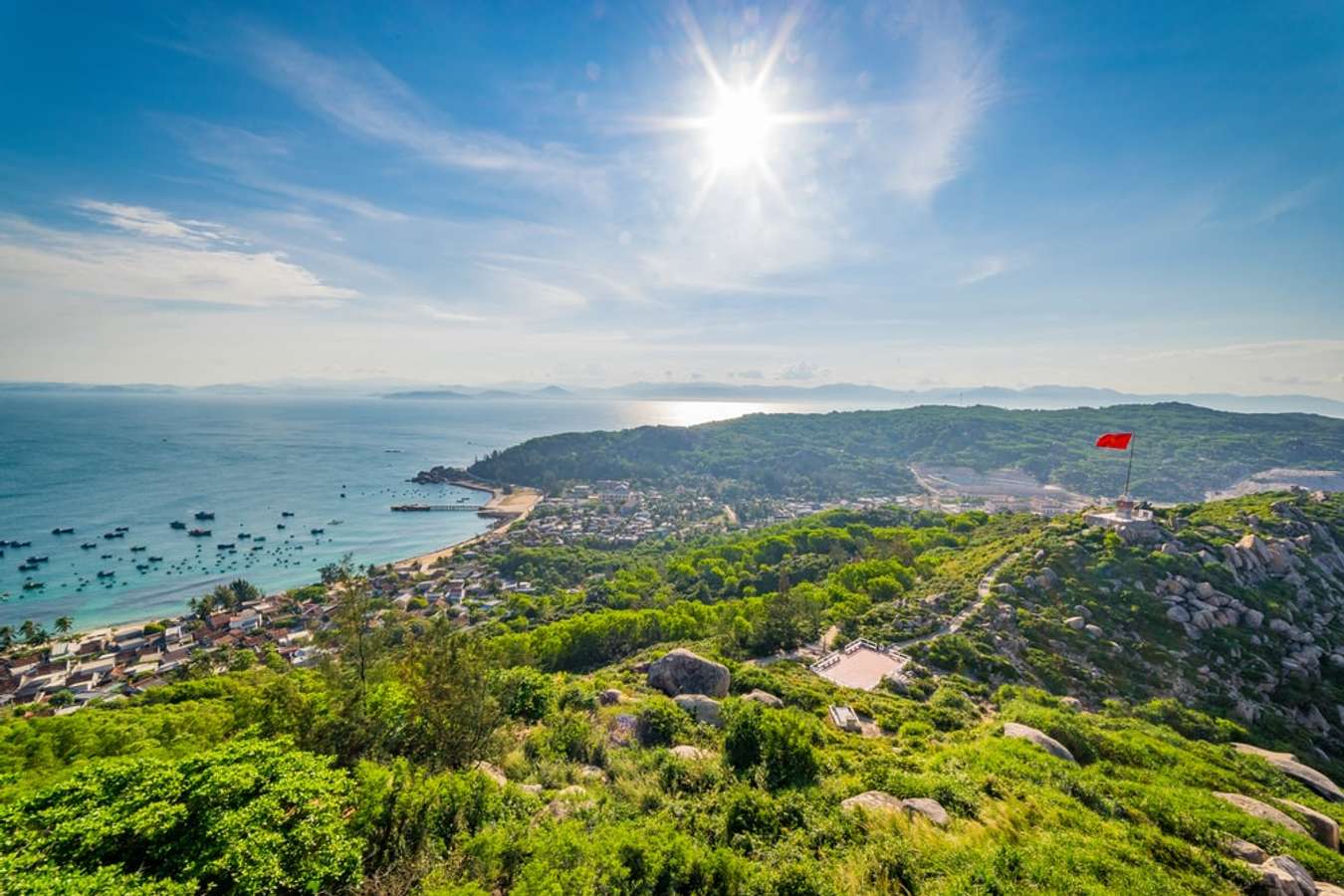 Coming to the island, in addition to admiring the beautiful scenery of the sky and water, visitors also enjoy many fresh seafood dishes such as oc vu nang (Cellana), mackerel, and especially jumping squid – the most delicious seafood.
Swimming in the sea, having dinner and then watching the moon rise behind the mountain top, with the fanciful light of the lighthouse in the distance, are really interesting experiences on weekends. Another impressive experience in Cu Lao Xanh is camping overnight on the beach. Amidst the vast sea and sky, the cool breeze, the sound of waves crashing in the sea and a sky full of sparkling stars surround travellers' huts. Then at dawn, the first rays of sunlight rising from the sea wake the guests up to welcome a bright and romantic new day.
Cu Lao Xanh is beautiful, but visitors should not come here from October to January next year, because during this period, the island is affected by the northeast monsoons, causing heavy rain, big waves, and rough seas. If you want to enjoy the unique festive atmosphere imbued with the religious culture of the locals on the island, you should come here in the third lunar month when the Cau Ngu (Whale Worshipping) Festival takes place.