1. Famous Long Bien Bridge tourist destination
– Address: Long Bien District, Hanoi
– Ticket price: free
Referring to a tourist destination in Hanoi, it is difficult to ignore the name Long Bien Bridge. The bridge was built in 1898 and was the first bridge to cross the Red River. Long Bien Bridge is considered an important historical vestige of the nation when associated with the two resistance wars against the US and against the French.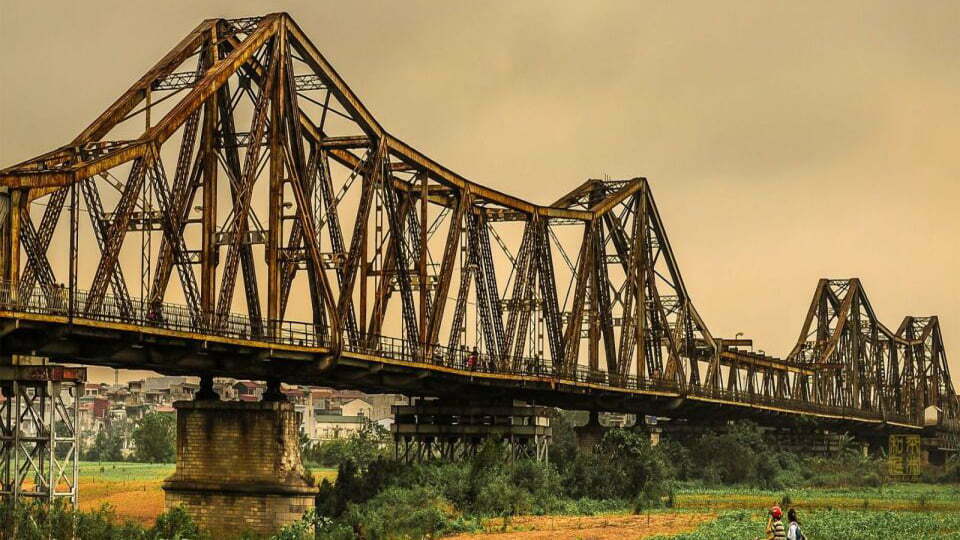 2. Water Park Ho Tay
– Address: 614 Lac Long Quan, Tay Ho District, Hanoi
– Fare:
+ Monday – Friday: 145,000 VND/adult; 120,000 VND/child
+ Weekend : 170,000 VND/adult; 140,000 VND/child
West Lake Water Park is an ideal place to have fun in Hanoi, especially on hot days. There are dozens of games, from terrestrial to underwater, from gentle to adventurous, serving the diverse needs of visitors. West Lake Water Park also has many accompanying services such as food, events, discovery tours, etc.
3. Hang Dau Water Tower
– Address: intersection of 6 old streets of Hanoi
– Ticket price: free
Hang Dau Water Tower is the oldest waterfall in Hanoi, located in the middle of a roundabout connecting 6 streets. The tower is 3 floors high, has a round cylinder with a diameter of 19m. This work was built solidly as a fortress and is also likened to the "Roman arena" of the capital. Not only having economic and historical value, Hang Dau water tower is now also a tourist destination in Hanoi, a beautiful check-in place for many tourists.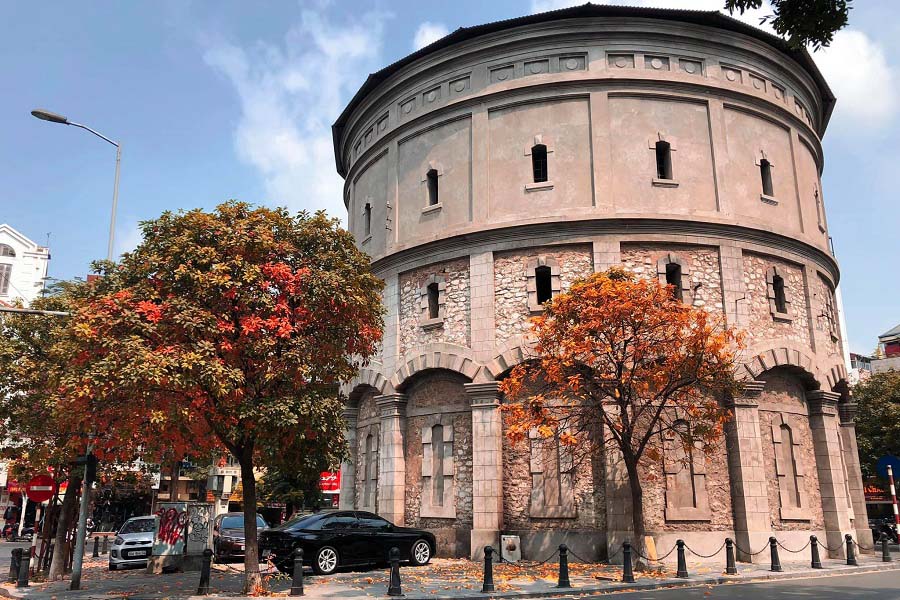 4. Check-in the ceramic path
– Address: 11 Hang Voi, Hoan Kiem District, Hanoi
– Ticket price: free
The ceramic road was built on the occasion of 1000 years of Thang Long Hanoi. Up to now, this place has become a symbol of tourism in the capital. The road with a length of nearly 4km, an area of ​​about 6.5 thousand square kilometers is decorated with traditional ceramics. For every square meter, 1,000 pieces of 3 x 3cm ceramic are used, meticulously assembled to create a vivid and colorful picture.
5. Yen So Park
– Address: National Highway 1A, Hoang Mai District, Hanoi
– Ticket price: free
Although it is an emerging tourist destination in Hanoi, Yen So Park has quickly become a familiar entertainment place for many families and groups of friends every weekend. The park has an area of ​​​​up to 323 hectares with many green spaces. You can lie down and relax on the lawns or participate in teambuilding games, duck riding, rowing…
6. VinKE amusement park – Times City
– Address: D9-9, B1 floor, Vincom Megamall Times City, 458 Minh Khai, Hai Ba Trung, Hanoi
One of the prominent entertainment places of Hanoi residents is Vincom Megamall Times City. So what does Times City have to play? You can join to explore VinKE & Vinpearl Aquarium Times City.
The educational playground that combines physical activity, knowledge training, spiritual development and useful career-oriented activities will be an ideal weekend entertainment place for you and your family members.
7. Vinpearl Aquarium – Times City
Another amusement park in Hanoi that is equally interesting is the Times City Aquarium. With a journey to explore the mysterious ocean and a series of records such as the first tunnel aquarium in Hanoi, the birthplace of the first penguin in Vietnam, the aquarium has many species of creatures for the first time. First appeared in Vietnam…, Vinpearl Aquarium – Times City brings a moment of complete fun for you and your loved ones.