1. Wonton noodles (Mỳ Vằn Thắn) Bình Tây :
Located at crowded 54 Hang Chieu is a delicious noodle street restaurant, known to many Ha Thanh diners. In the past, the restaurant was also very famous through the name Pho Co noodles, then moved to Hang Chieu and took the name Binh Tay noodles. The reason this noodle shop is supported by everyone is because of its cleanliness and hygiene in food processing, along with the way in which ingredients are processed.
Homemade noodles without having to buy ready-made noodles are fresh and chewy, bone broth is seasoned to taste, so it has an irresistible taste. The restaurant's dumplings are filled with shrimp and meat, thin shells, just need to gently use chopsticks to separate the dumplings. Accompanying the main ingredients are the side dishes that make the bowl of noodles more attractive such as char siu meat, boiled eggs, thinly sliced ​​liver, green chives. Diners will only lose about 40,000 VND for a bowl of noodles that are both delicious and beautiful.
DETAILS:
Address : 54 Hang Chieu Street, Hoan Kiem District, Hanoi
Opening hours : 07:00 – 13:00 | 17:00 – 23:00
Price 
: 45,000 VND – 55,000 VND
2. Fish noodle soup (Bún cá) – Hong Phuc alley
This is an authentic Hai Phong fish noodle soup. The middle-aged, tall, easy-going owner seems to be very similar to the character of the people in the coastal area. This fish noodle shop is located on Hang Dau street, initially right on the street, right on the sidewalk, but now it is back in Hong Phuc alley also on Hang Dau street and is known by many people. The difference of this noodle shop compared to Ha Thanh fish vermicelli is that the broth has a stronger sour taste.
You can feel the taste of crocodile very clearly, the broth is also fatter. The pieces of fried fish here are big and thick, although sometimes the restaurant is not too picky in filtering the bones. Accompanied by pieces of golden fried fish are fish cakes, celery or spinach for always in a bowl of vermicelli, a plate of raw vegetables is available on the table if diners want to eat more. Noodle soup in Hong Phuc alley may not be as light as it is. Ha Thanh fish noodle soup and no soft fish but it still has its own characteristics.
It is in this restaurant that there are fish heads, fish roe, fish hearts (in some other regions it is called a horn and because of the shape it is quite similar to that instrument and it is the stomach of the fish). If guests want to eat, they can order a vermicelli with only fish head, fish heart or fish roe. Or you can order a separate fish head with broth, which is also very interesting because of the meticulousness of sipping little by little and the meat at the head of the fish is also firmer and has a more strange taste.
DETAILS:
Address: Hong Phuc Alley, Hoan Kiem District, Hanoi
Opening hours: 01:00 – 23:30
Price
: 25,000 VND – 40,000 VND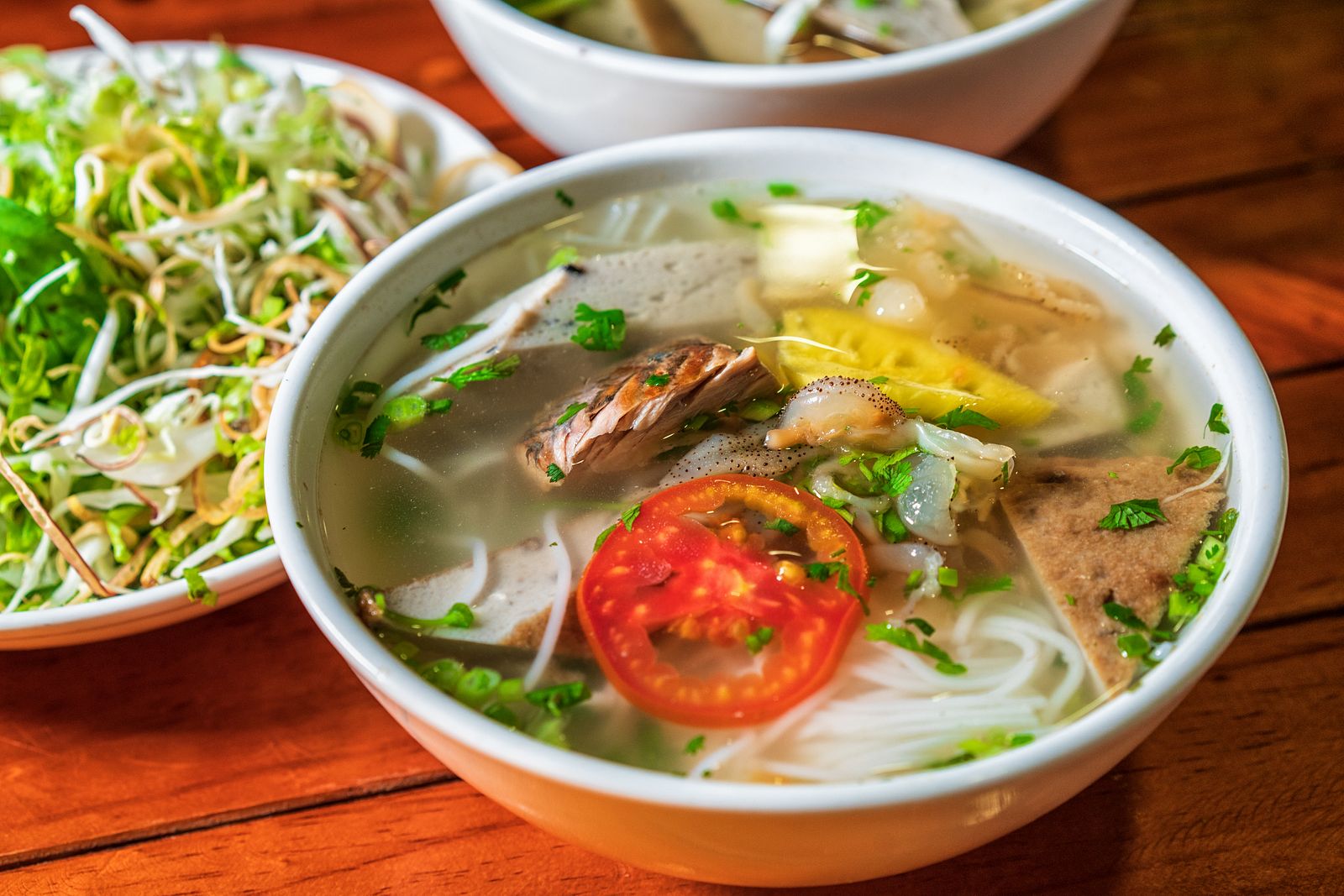 3. Quán Hiền – Vietnamese Siamese duck with bamboo shoots noodle soup and grilled Siamese duck vermicelli (Bún măng ngan & Bún chả ngan nướng)
Nestled in the middle of big fashion stores around, Ngan Hiền is not known to everyone. But once you have eaten here once, you will want to come here again and again. The pork chop here with its rich flavor is marinated and grilled on charcoal, served with vermicelli with specially prepared fish sauce and delicious bamboo shoot soup that will surely make you unable to refuse and forget the taste. Selling popular goods, the seat is a temporary borrowed yard of a preschool, so the shop only opens in the evening when the children have finished school.
Entering the eatery, in addition to the attractive smell of grilled swan, customers always see a table with bowls of fish sauce with a plate of vermicelli ready, proving that the shop is very popular, always in a "on-duty" position, standard. suffered before. So the yard is small, only 7-8 tables but always full. In terms of quality, the eatery's food is very fragrant. Goose meat has been boned, cut into thick but soft pieces, richly marinated, and people eat it thanks to charcoal grilling. Meat is also selected lean part, not much skin, fat like many places. However, if unlucky guests are very likely to encounter… old geese, then the patty is very tough and difficult, which will cause the feeling of "not worth the money". The restaurant's bamboo shoots only get a good average score, from broth to boiled blood or sour bamboo shoots are "medium range", not really impressive. Mixed garlic fish sauce like everywhere, nothing special. So if compared with the distant reputation, the first time coming here, many guests must be… a bit sad.
DETAILS:
Address: No. 75, Hang Bong, Hoan Kiem, Hanoi
Opening hours: 19:00 – 22:00
Price
: 45,000 VND – 80,000 VND
4. "Bánh đúc" at 8 lane 8B Le Ngoc Han street, Hai Ba Trung district, Hanoi
Bánh đúc is an extremely suitable dish on cold monsoon days. Let's take a look at the famous hot cake eatery in Ha Thanh. Having been around for a dozen years, this is definitely a favorite destination for students and young people for more than a decade. Le Ngoc Han street cake shop is very famous. The shop is open from 8am to 10pm daily. With only 20,000 VND, you can enjoy a bowl of hot cake with the sweetness of ground meat and broth, chewy golden fried tofu, mixed with the aroma of coriander. A little spice accompanied by spicy garlic vinegar will make you feel warmer in these cold winter days.
Bánh đúc here is flexible, immersed in the clear, rich water. The filling consists of stir-fried minced meat with wood ear, some finely chopped coriander, fragrant fried onions and two or three pieces of golden fried bean curd. The bowl of molded cake served is still evaporating, mixing colors that make diners "swallow saliva" just by looking at them. The restaurant has quite neat tables and chairs, so guests can relax and enjoy.
DETAILS:
Address: No. 8, Lane 8B Le Ngoc Han, Hai Ba Trung District, Hanoi
Reference price: 15,000 VND – 25,000 VND
Opening hours: 8:00 – 22:00
5. Phở Gánh – Hang Bac :
Pho Ganh is one of the familiar nightlife places of Hanoians, especially young people and food lovers. Because it is forbidden to sell on the sidewalk, Pho Ganh is only sold late at night when all the street lights are on, the house is asleep, the pho burden is busy on fire, emitting smoke, attracting diners. Come enjoy the evening meal.
Pho Ganh has long been loved by its delicious taste, enthusiastic service and especially unique sales hours, so people have to come and eat it. The broth is stewed with beef bone, fresh pork bone marrow, adding a little spice to make the broth fragrant and sweet. The bowl of pho is full of cakes, chewy, soft, green onions sprinkled on the bowl, pieces of red beef are delicious, medium-rare cooked to keep the sweetness, fragrant onions smoky makes us unable to refuse. .
DETAILS:
Address: 61 Hang Ngang, Hoan Kiem District, Hanoi
Opening hours 03:00 – 05:30
Price: 40,000 VND – 50,000 VND